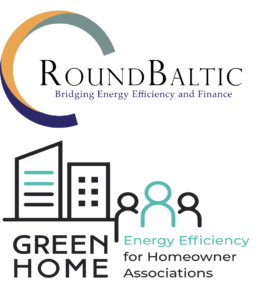 Learning event on
 HOW TO ACCELERATE ENERGY EFFICIENCY INVESTMENTS IN THE MULTIFAMILY HOUSING SECTOR in POLAND AND GERMANY?
16.03.2023
10:00 – 12:30
Recording and presentaions are available in the agenda
 Share the news in social media:
Introduction  
The learning event is organised within the framework of the H2020 projects RoundBaltic and GREEN Home.  Both projects are a  part of the European Commission's Smart Finance for Smart Buildings and Sustainable Energy Investment Forum initiatives where GREEN Home focuses on support to achieve the goals of the integrated National Energy and Climate Plan (NECP) and RoundBaltic focuses on enabling financing of energy efficiency in the Baltic region.
 Scope
The general scope of learning events under RoundBaltic is to address key aspects that can help accelerating energy efficiency investments in Poland, Latvia and Denmark as well as across the entire Baltic Sea Region (BSR). The learning events will explore the specific challenges and solutions of these target countries and to the extent appropriate the prospects of replication in the BSR and EU wide. 
The scope of this learning event is to assist public authorities and other stakeholders in making clever decisions by unlocking the potential of energy efficiency investments in the multifamily housing stock in Germany and Poland.
The learning of the event will feed into the stakeholder dialogue of RoundBaltic and GREEN Home and the project's efforts on identifying and enabling energy efficiency finance actions and the findings will be disseminated via news bulletins
Target participants
Multifamily building owners and property managers, financing institutions, public authorities, policy makers and other actors involved in sustainable energy finance in Germany, in Poland and other Baltic Sea Region countries and to some extent EU-wide.
AGENDA 
Presenatations are availabale by clicking the topic in the agenda
Recrording is availbe below the agenda
10:00 – 10:15  Welcome and introduction
GREEN Home Project – Kristina

Eisfeld , VDIV Deutschland ( presentation included in German-Polish Duet)
10:15 – 11:15 The German-Polish Duet –  5 short presentations prepared on the same topic by DE and PL speakers, short break after each topic to answer questions:
Setting the scene – context and status quo
Financing EE investments in HOAs
Structure of a HOA loan
Best practice examples for subsidies
What criteria are needed to make EE investment more feasible for HOA
Kristina Eisfeld, VDIV Deutschland – presentations here
Andrzej Rajkiewicz, SAPE/Energy Conservation Foundation, Poland – presentations here
11:15 – 11:30 EU ELENA project in Latvian municipality Jelgava, Knut Hoeller – IWO e.V.
11:30 – 11:45 Multi-apartment building renovation in Vilnius, Lina Bubulyte, Project Manager at Vilnius City Building Renovation Company
11:45 – 12:20 Discussion
Moderator: Nicholas Stancioff, Funding for Future
Participants:
Andrzej Rajkiewicz, SAPE
Kristina Eisfeld, VDVI
Knut

Höller, IWO e.V.

Lina Bubulyte, Vilnius City Building Renovation Company
Main barriers to make the financing renovation of MFH more affordable

The optimal model of renovation of MFH in terms of duration and assistance to MFH owners

Main message to financing institutions

Main message to public authorities
12:20 – 12:30 Closing remarks
Full recording of the event
RoundBaltic – Promotion of Smart Finance for Smart Buildings in the Baltic Region with focus on Poland, Latvia and Denmark – This project has received funding from the European Union's Horizon 2020 research and innovation programme under grant agreement No 967051
GREEN Home project: This project has received funding from the European Union's Horizon 2020 research and innovation programme under grant agreement No 101033878